20 April 2020
1/3rd of all MPF inflows during coronavirus pandemic is invested in HK/China Equities
Hong Kong's MPF community as has been offered a rare insight into MPF member behaviour during the coronavirus pandemic, as MPF Ratings, Hong Kong's specialist MPF research firm, released its March quarter MPF Fund Flow and Market Share Report (FMS). A period covering the worst calendar quarter start, with MPF assets falling 10.5% to $867.8bn, a level not seen since September 2011.
According to MPF Ratings, MPF members' attitude towards Hong Kong and China equities was unprecedented in both speed and magnitude. Estimated inflows into local equities increased from an insignificant $71m to $4.01bn in just the first three months of 2020, the equivalent of $1 out of every $3 MPF inflows (Table 1).
Table 1: Industry Share of MPF Assets (as at 31 March 2020) and Rank of Quarterly Net Inflows by Fund Types (Q1 2020 vs Q4 2019)*
Source: MPF Ratings
"Within one quarter Hong Kong and China equities went from being totally shunned to the industry's clear favourite. Not only was this extreme change in sentiment unprecedented, so too was the volume of money invested in Hong Kong and China equities. Estimated $1 out over every $3 going into local equities is extraordinary at any time, let alone during the first stages of a global pandemic which continues to impact both communities and financial markets," declared Francis Chung (叢川普), Chairman of MPF Ratings.
When asked why there was such a torrent of inflows favouring local equities during such an unparalleled period of uncertainty, Mr Chung could only surmise, "Perhaps MPF members are recalling the SARS period. Financial markets were disrupted, but the virus proved relatively short lived, creating an opportunistic investment opportunity."
MPF Ratings' FMS also reported the triumvirate of Manulife, HSBC and AIA, which has monopolized the top three MPF provider positions since MPF's introduction in December 2000, had finally been broken. Sun Life has overtaken AIA as the 3rd largest MPF Scheme Sponsor (Table 2) with Mr Chung commenting, "The break-up of the traditional "Big 3" is a major milestone, and ordinarily would be a significant story in itself, but with what's unfolding around the world, and to see $1 out of a possible $3 going into local equities, these are clearly not ordinary times."
Table 2: Industry Share of MPF Assets and Rank of Quarterly Net Inflows by Scheme Sponsor as at 31 March 2020*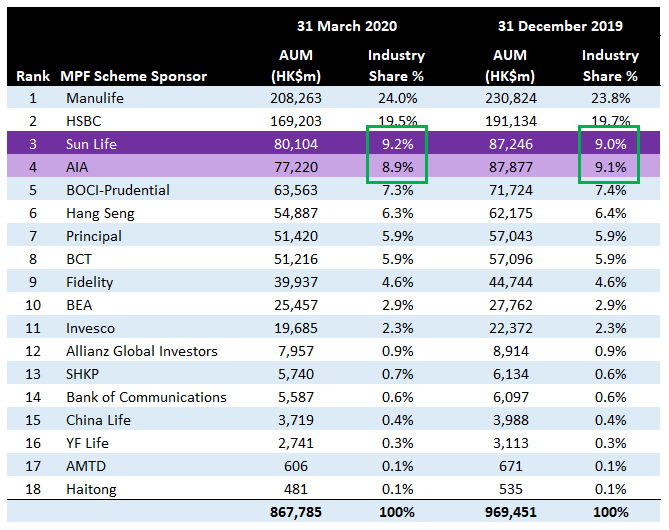 Source: MPF Ratings