21 January 2021
MPF expert predicts industry consolidation in 2021
Key points are as follows:
2021 MPF Scheme ratings have now been published
For the 1st time MPF's 3 largest insurance companies' MPF schemes have been ranked "Gold" in the same year
Nearly 2/3rds of MPF inflows now go to Hong Kong's biggest insurance companies
MPF Ratings forecasts that Manulife and Sun Life will continue to dominate in 2021 resulting in industry consolidation
The MPF Scheme of the Year to be announced on the 4th of March
MPF Ratings Ltd (MPFR), an independent MPF research specialist today announced its annual ratings of all MPF Schemes. For the first time since the inception of public ratings in 2013, MPF's three largest insurance company sponsored schemes, Manulife's Global Select (MPF) Scheme, Sun Life's Rainbow MPF Scheme, and AIA's Prime Value Choice MPF Scheme, achieved a "Gold" rating in the same year; the highest rating issued by MPFR.
MPFR's rating system is seen as the industry standard as MPF schemes are freely and independently assessed, compared against all industry participants and considers factors beyond performance and fees, and according to MPF Ratings' Chairman, Francis Chung (叢川普), this year's assessment was especially unique as MPF members, driven by market volatility and record account balances, chose major insurance companies as their MPF scheme provider, a situation which Mr Chung expects to continue in 2021.
"MPF members have come through one of the most economically and financially challenging years on record to start 2021 with record MPF average account balances. This rising wealth in MPF accounts has elevated the public's awareness of MPF. An astonishingly high 65 cents of every dollar of MPF inflow going into major insurance company sponsored MPF Schemes (See Table 1) reflects a preference for quality and security as defined by strong member service and brand recognition."
When asked how the MPF landscape would look like in 2021, Mr Chung forecasted that the dominance of Sun Life and Manulife will not only continue but will result in further consolidation in the MPF industry, "The market share of MPF inflows for Manulife and Sun Life are significantly higher than their already dominant share of MPF assets (See Table 1). Their dominance has been growing and it will continue in 2021," before adding, "Their dominance, the continued pressure on fees and expenses, and the lack of scale of smaller schemes may see smaller schemes merge with larger ones."
While announcing the ratings, MPFR also announced its award recipients, whose contributions to the MPF industry in the past 12 months will be celebrated in early March at the Kaplan Professional sponsored "The 2021 MPF Awards"; an event which will culminate the announcement of the "MPF Scheme of the Year", the "MPF People's Choice Award" and the "MPF Employers' Choice Award".
For a full list of MPF Scheme ratings and MPF award winners, please click below:
www.mpfratings.com.hk/ratings-and-awards/
Table 1: MPF Assets and MPF Fund Flows as at 31 December 2020 (by MPF Scheme Provider)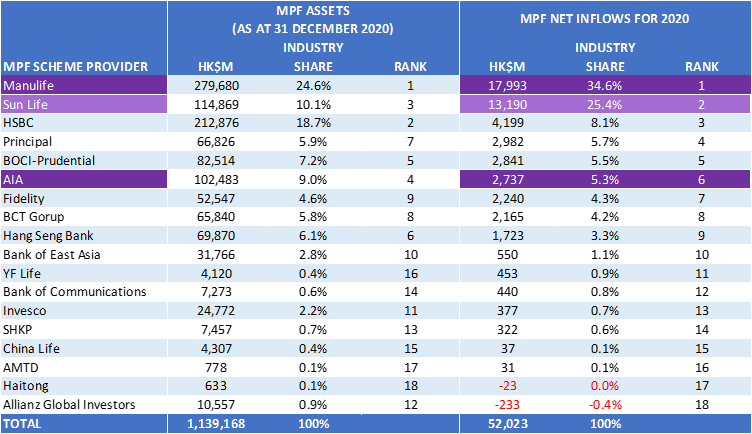 Source: MPF Ratings